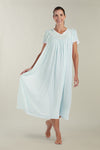 Details
LONG SILK ESSENCE NIGHTGOWN: Silky and sheer, this luxurious long gown features soft flutter sleeves trimmed in lace, with an applique embroidery and lace trimmed neckline.
Style #: 509212

DESIGNED IN THE US: Our women's nightgowns are built with lasting quality in mind, we durably construct our women's sleepwear with the best materials and quality stitching. Classic, luxurious, beautiful designs that don't just transcend the moment; they make the moment.

GREAT FIT: Offering a well-fitting, luxury nightgown from our wide range of sizes. Whether you need a petite, regular, or plus-sized gown, you can ensure your nightgown fits perfectly with our trustworthy, stress-free, sizing chart.

LASTING QUALITY: We use the highest quality materials when we're designing our sleepwear to retain its beautiful condition even after multiple washes. Machine washable and carefree fabric for home or travel.

CUSTOMER SERVICE: We promise 100% satisfaction guaranteed on all of our lingerie and loungewear products. Helpful US based customer service that will always be there when you need them.
Customer reviews
Customer Reviews
09/02/2023
Anonymous

United States
Love these!
I absolutely love these gowns! Long ago and far away I used to wear them always. Then our children came along and my oldest stole them away as 'silkies' to sleep with and I let go because as the kids got bigger it was more practical to wear something I could get up and attend to the family in. Now both kids are in college and one of the first things I did was purchase my favorite gowns from Miss Elaine! I feel like my old self. They are so very soft and comfy. Nothing could feel more feminine and I look forward to wearing them every night! Highly recommend.
02/17/2023
Opinionated C.

United States
Flawless!
This nightgown is just as delightful as my two Miss Elaine Silk Essence Nightgowns, which are Long Silky & Sheer Tricot Gowns with Flutter Sleeves. See my reviews on them. I adore them, and I feel equally as passionate about this one. I didn't need another, but Amazon ran an excellent sale on it it, and I jumped at the opportunity. Like my others, light, smooth, silky, relatively sheer, thoughtfully and beautifully adorned, and not the least bit scratchy. I adore sleeping and lounging in this nightgown. A few weeks after purchasing the Aqua colored one in this style, Amazon ran a Prime sale, and during it, they reduced the price of this nightgown. Loving this one so much and how luxurious it feels against my body when I sleep or am just lounging around the house early in the morning or late in the evening, I just could not pass up the sale on its pink sister. I love everything about these nightgowns from the way they snuggly caress my skin in bed to the way they look refreshed and renewed after washing. I am such a huge fan of the Miss Elaine Silk Essence Nightgown line.
Thank you so much for the positive review! We love hearing that you love the silk essence nightgowns as much as we do!
01/08/2023
Anonymous

United States
Nice product
This is second time getting theses for my wife. She loves them
What a great gift! We're so happy she loves them.
12/02/2022
Eileen H.

United States
Long nightgown
Loving this gown . Lovely nightgowns seem to become a thing of the past. Not everyone wants to sleep in PJ s or sweats. I enjoy the feminine feeling of this gown and have been wearing Miss Elaine for many years. Thanks for making this available. Now if you could make it in long sleeves…..
Thank you for your review, Eileen! Glad you like it so much that you'd like it in long sleeves!
08/23/2022
Susan W.

United States
Amazing Silk Nightgowns
I have sworn your nightwear for years, but really struggled to obtain it in the UK. So pleased when my friends go on holiday to the USA and they can bring it home for me.
Thank you so much for your review! We're so happy you have friends who bring you back Miss Elaine "souvenirs"!